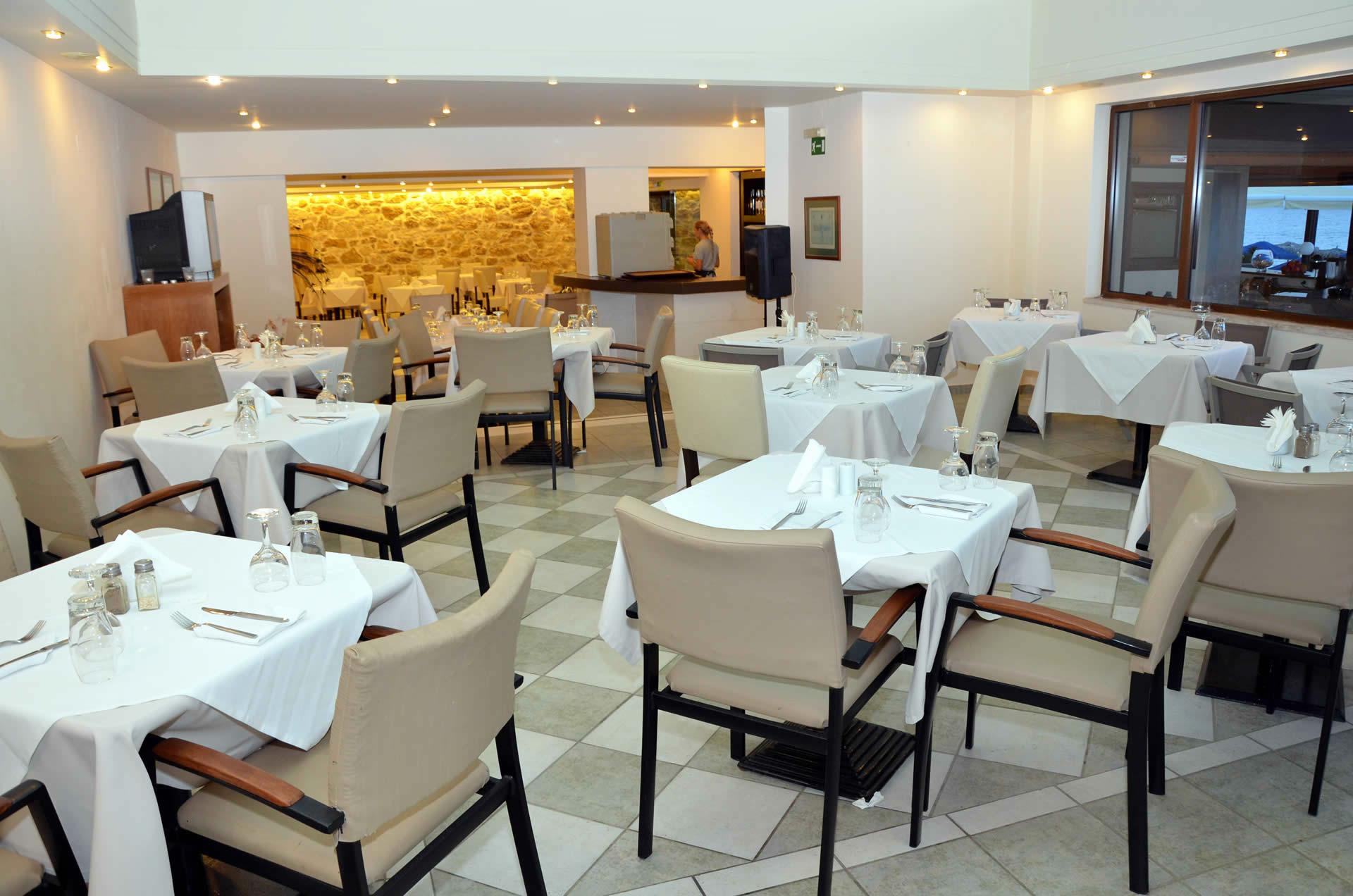 Taste of Greece at Indigo Mare
Our Hotel's Restaurant offers in our guests the opportunity to enjoy a rich breakfast buffet containing a selection of local and international specialties. The half board is served as a set menu and our guests can choose from a variety of different dishes every day
Start your day with a delicious breakfast with a wide variety of fresh fruits and juices, Greek yogurt, honey, rusks and international breakfast favorites such as sausages, cheeses, eggs, cakes and many more. Come back later for lunch or dinner with specialties from the Cretan and International cuisine.
Enjoy a wide selection from our buffet
The Main Restaurant is situated at the pool level, next to the Bar. At its beautiful terrace our guest can enjoy a wide selection from the large buffet. Breakfast is served at the hotel's restaurant from 07:30 till 10:00, offers American style rich Buffet. Open for Dinner 19:00 till 21:00 with gourmet delights in set menu style.
Tavern
We offer an eclectic menu, with a variety of dishes ranging from: delicious salads, innovative seafood entrees, small plates (ideal for sharing), pasta plates, fresh lobster and mouthwatering veal fillets. It's the perfect mix of VIP style and north beach's exciting and sexy vibe. Our Tavern is an ideal destination to enjoy a meal or a cocktail with your friends or loved ones, while you are watching the sun sink into the blue Mediterranean waters. Open from 11:00 till 21:00
Soft drinks and cocktails
Our Bar is also situated at the pool level. A casual option for lunch with freshly prepared delicacies and favourite poolside snacks throughout the day. Menu items include fresh made deli sandwiches, hamburgers, salads, ice creams, beers and soft drinks! Late in the evening offers a wide variety of special cocktails and alcoholic drinks Open from 10:00 till 01:00.
Our Guest Reviews
Take a look at what our former guests had to say about their holiday experience at Indigo Mare Hotel.

Stayed here in April for a week. The place was very quiet as it was the beginning of the season. The hotel lived up to it's good reviews. The rooms are well sized and equipped and kept spotlessly clean every day. The reception staff were so helpful with advice or any issues arising.
jp t
Tripadvisor

I had two enjoyable weeks with my friend at Indigo mare . We was very satisfied from restaurant,excellent food and service. Good cleaning in room and very helpful personalities .We were expressed by the hotel's managment.
ToniaM8
Tripadvisor

Excellent hotel located on the beach in Platanias, close to many bars and restaurants. The hotel is well looked after with a lush garden area in the middle. Spacious apartments with large balconies/terasses. Comfy beds (continental) which I've never before encountered in Greece.
Nikolas P
Tripadvisor